OUR SERVICES

Production
We produce a variety of content for our clients for different media platforms including advertising, promotional material, graphic videos, live streaming, music videos, tv shows and general content creation. We handle all stages of production and can therefore undertake complete projects from start to finish, or a certain part of it. Depending on the client's projects size and needs at any given time.
Consulting
The advertising environment is changing rapidly, so it is important to adapt quickly and follow the trends that are present at any given time. We can provide clients with a variety of consultancy services, such as the implementation of projects, length of videos and aspect ratio based on the media delivery.
Social media campaigns
If you want to go all the way and let us take care of marketing campaigns for your content on social media, we can help you with that too. We work closely with marketing agencies that specialize in social media marketing, such as advertising campaigns, analytics, and remarketing.
Stock footage
We have a variety of high-quality materials from across Iceland. Both footage shot from the ground and from the air with drones. Let us know if you need specific footage from our beautiful country!
---
THE TEAM
Blindspot is run by Viktori Aleksander Bogdanski, who has extensive experience in various fields of film making.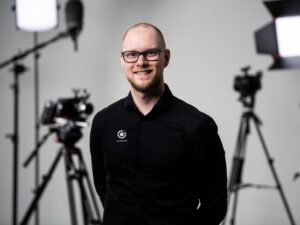 His interest in filmmaking caught on at a young age and in 2010 he decided to chase the dream and make it a life-long career, and there was no turning back. Viktor is over the top organized, accurate and works hard to provide personalized services resulting in happy customers. The Blindspot team includes a great group of contractors that are involved in our diverse day to day projects, each with their very own specialization in their field.
Would you like to add a group of satisfied customers? Feel free to contact us. We look forward to hearing from you!